Holaa, sigo subiendo y resubiendo discos aunque sea una tarea complicada teniendo en cuenta que en la antigua cuenta de mediafire tenia a alrededor de 90 discos subidos, ahora voy subiendo a partir de discografias asi es mas ordenado. Bueno hoy les traigo el ultimo disco de Evile, gran disco, tuve la suerte de encargarlo apenas salio y colgue en subirlo, pero la verdad que me parece un disco muy bueno superior al segundo. Este disco tiene mucha potencia, la banda esta en un momento excelente de composicion y performance, los temas son excelentes muy armonicos pero al mismo tiempo violentos y rapidos. No estaria tan errado si dijera que es el mejor disco de Evile, despues de decaer un poco en el segundo disco, en este demostraron que tienen mucho para darle a la escena del thrash y que se puede tratar de hacer nuevas cosas dentro de una movida que ultimamente esta un poco estancada en cuanto a ideas. Obviamente no podemos negar que este disco tiene una influencia enorme de Metallica y Testament, pero creo que no es mala idea tratar de captar la estetica y atmosfera de los grandes discos que marcaron la escena, siempre y cuando se genere material de contenido y calidad, y no tengo dudas que este es el caso.
Five Serpent's Teeth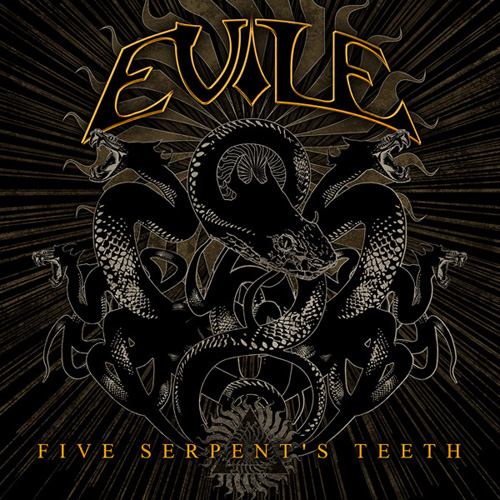 01. Five Serpent's Teeth
02. In Dreams of Terror
03. Cult
04. Eternal Empire
05. Xaraya
06. Origin of Oblivion
07. Centurion
08. In Memoriam
09. Descent Into Madness
10. Long Live New Flesh




Si hay algo genial de Evile son el arte de las tapas y en general, aunque este no es realmente el mejor, la combinacion de colores es muy buena y prolija, lo que me no me gusta es el titulo del disco y el tema de las serpientes, bastante choto eso pero todos sabemos que eso no es lo mas importante, sobre todo cuando hablamos de thrash metal, lo unico que queremos es que los temas vayan a los chapazos para romper todo. Ah, por ultimo les dejo un archivo que arme yo, con todos los temas viejos de Evile que grabaron antes del primer disco, no se lo pierdan son muy buenos.